Comprehensive Training Program
In the course of 50+ years we've learned what works and what doesn't, so you don't have to spend your time and money figuring out how to make your business work. Our training programs are extensive, ongoing and geared to your business knowledge strengths and weaknesses.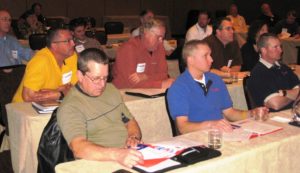 Upon investing in a franchise, you will start training in our online Sparkle Wash learning center.  We will build upon this foundation during the week long comprehensive training program at Sparkle Wash Headquarters in Oakwood Village, OH. You will actively participate in online, classroom and field training and you will receive written and online reference manuals for every aspect of your business (including environmental regulations to ensure compliance). In addition, you will receive one week of field training in your territory. As a franchisee you will have access to the daily support provided by the team at Sparkle Wash Headquarters and you can rely upon the support of fellow franchisees. You are also invited and encouraged to attend helpful seminars throughout the year along with the Annual Meeting.
We also have an exclusive online intranet that gives you 24/7 access to business tools, training materials, marketing templates and a company forum to keep in touch with fellow Sparkle Wash franchisees and Headquarters.
Ongoing Sales Training
As a result of the Sparkle Wash sales training program, you will have the confidence and skills to engage with your prospective customers. You will be taught an efficient process and learn the questions you need to ask so that you can maximize each opportunity that presents itself.  The end result is that you will be the chief problem solver for your customers pressure washing and restoration needs.
Safety Training
Not only is it critical for you, as an owner, to have a working knowledge of Occupational Safety and Health Administration (OHSA) safety regulations but it's also important that your employees have on-going training in this area. We provide you with the knowledge and tools needed to protect your business and employees. Newly designed and up-to-date materials are always available via our Intranet and online training modules.
Generate Business with Marketing & Advertising Support
With over 25 YEARS OF MARKETING AND ADVERTISING EXPERIENCE, the Sparkle Wash marketing group will work with you every step of the way from media planning and budgeting to execution. Together we will determine who your target customer is in your territory and lay out a plan to reach them using following social, traditional and online media tools:
Local lead-generating RESPONSIVE website
Google AdWords analytics and support
Inbound Marketing program
Social Media management & advertising
Direct Mail
Email campaigns
Sales literature
Local market planning & support
SparkleNet® intranet support website
Business cards and business forms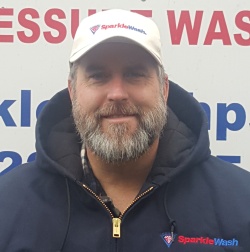 James Pace – Franchisee, Puget Sound WA
"I began my Sparkle Wash franchise with no formal business education; no hands-on time with a pressure washer; and only a basic, non-practical understanding of the ins and outs of business management. While investigating the Sparkle Wash Franchise system, I was assured that I would be provided the training necessary to start and grow my business in the Puget Sound area. Now after six years, I can say, yes, the training is excellent, and sufficient to meet the demands of every facet of business. The books, online modules, and the on-site training in Oakwood Village are great, but most important for me is the continued support I receive; I get almost immediate help with mechanical, technical, accounting, marketing, or HR issues. In short, I give the Sparkle Wash Franchise training high marks and would recommend it to anyone looking start and grow a business."
Next Page: The Ideal Candidate